Dame Joyce Frankland (1531-1588) was the only daughter of Robert Trappes, a wealthy goldsmith and a jeweller to King Henry VIII.
Dame Frankland's first husband was a merchant venturer named Henry Saxie with whom she had a son, William. Following Henry Saxie's death, Dame Frankland married William Frankland, a Lord of the Manor of an estate in Hertfordshire and a clothworker.
William Saxie studied at Cambridge University and then became part of Grays Inn in London. He was tragically killed by falling from a horse and Dame Frankland was grief stricken. Dame Frankland was comforted by Alexander Nowell who was the Dean of St Paul's and Rector of Much Hadham. When Dame Frankland cried, "Oh my sonne! My sonne!", Alexander Nowell replied, "Comfort yourself, good Mrs Frankland, and I will tell you how you shall have twenty good sonnes to comfort you in these sorrowes which you take for this one sonne…there be in universities so many pore youth…if you found certain fellowships and scholarships be bestowed upon studious young men…they be called Mrs Frankland's schollers, they should be in love towarde you as deare children."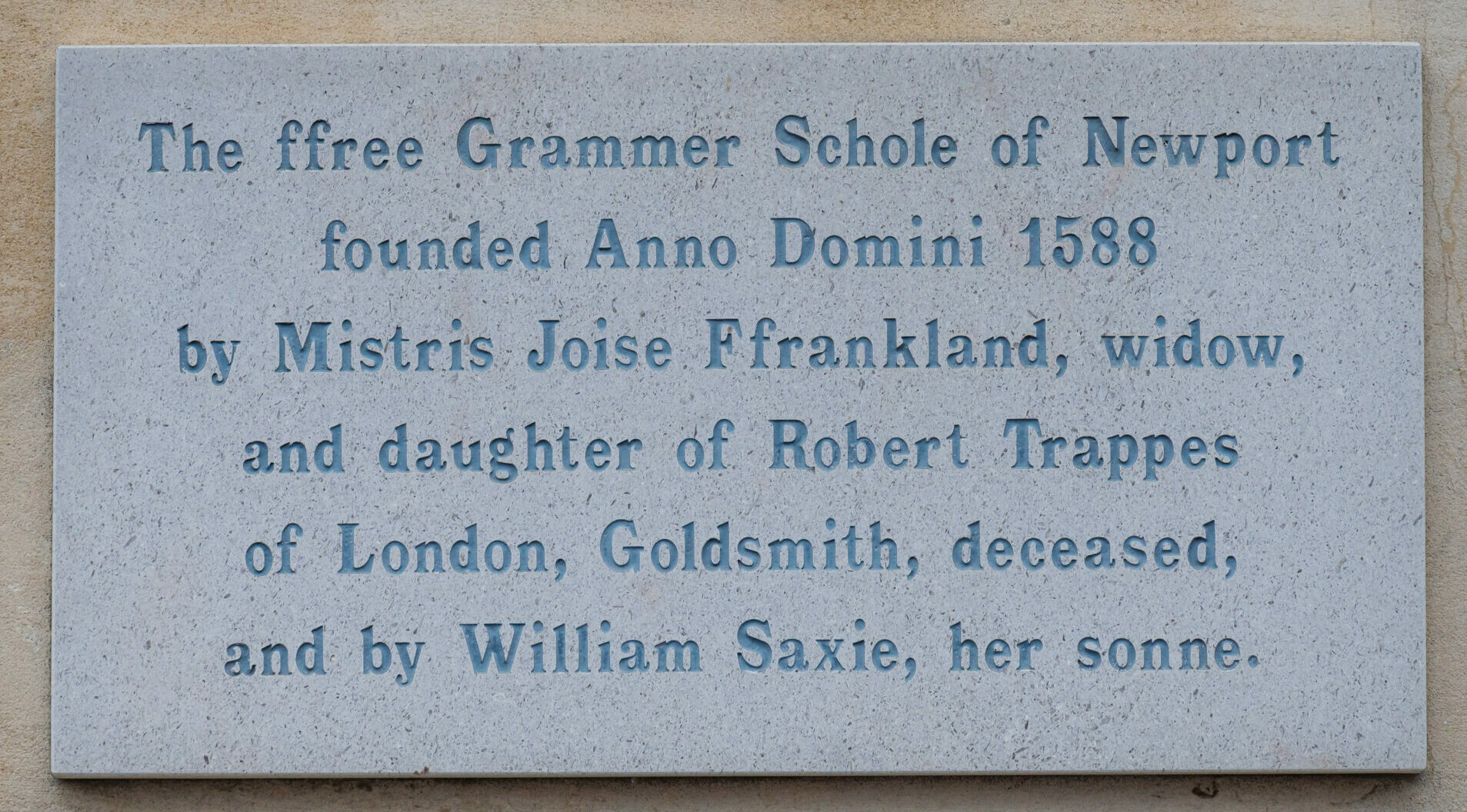 When Dame Frankland wrote her Will she remembered Alexander Nowell's words.  She made many educational bequests, including to Gonville and Caius College and Emmanuel College in Cambridge and Brasenose and Lincoln College in Oxford. She also founded the ffree Grammer Schole of Newport.
In her Will Dame Frankland explained that she founded the school in the "Great and Poor Town" of Newport, Essex, "for the Love I bear to Learning, and to have Youth well brought up and instructed in …Learning and good manners, whereby they may be good Members of the Common Wealth."
In order to fund the school Dame Frankland bequeathed, amongst other things, the Tithe of Banstead, which is an area of land she owned in Surrey.
John Morden, who studied at Peterhouse College, Cambridge, became the first Master of the school in 1588.
Extracts from 'Newport Free Grammar School, A Brief History' complied by Fred Thompson, History Master between 1937 and 1975.