Careers Guidance
Every young person needs high-quality career guidance to make informed decisions about their future. Good career guidance is a necessity for social mobility: those young people without significant social capital or home support to draw upon have the most to gain from high-quality career guidance. (www.gatsby.org.uk)
Our intent at Joyce Frankland Academy is to provide a broad, balanced careers curriculum, which embraces our core beliefs of; Explore, Fulfil, Flourish, and which provides the deep knowledge and understanding needed to allow all students to develop into independent, inquisitive, imaginative and insightful citizens who contribute positively to their communities.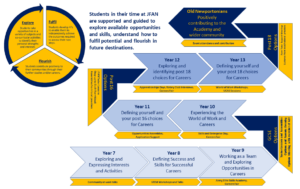 Careers Education, Information, Advice and Guidance (CEIAG) is an essential element of the support given to students at Joyce Frankland Academy, enabling them to prepare for the choices, challenges and opportunities that arise at each stage of their development, both in the Academy and post-18.
In setting out to achieve our aims, Joyce Frankland Academy uses the Gatsby Charitable Foundation's Benchmarks to develop and improve the school's careers provision. The Academy recognises that revised statutory guidance is structured around these benchmarks and that by adopting them we can be confident that we are fulfilling our legal duties. We review the impact and implementation of our careers provision annually, using student, staff, parent/carer, business and education feedback. We use online questionnaires to review the impact towards the Gatsby Benchmarks and CDI framework. Too see our 2022-2023 Careers Year Plan please see download below (dates and events subject to change).
If you are a parent/carer and would like to get involved with the Career provision at JFAN please complete the engagement questionnaire here.
Please contact Dan Grindrod, Careers Lead dgrindrod@joycefrankland.org or Dan Langley, Academy Leadership Link dlangley@joycefrankland.org for more information.
Websites for students: