Duke of Edinburgh Award
Please click here to see the D of E website (www.dofe.org)
The Duke of Edinburgh Award is well recognised across education and industry as being an excellent builder of independence, team work and self-motivation. We offer Bronze award in Year 10, Silver in Year 11 and Gold in Years 12-13. This award has been extremely popular in recent years with large numbers of pupils enrolling at Bronze level.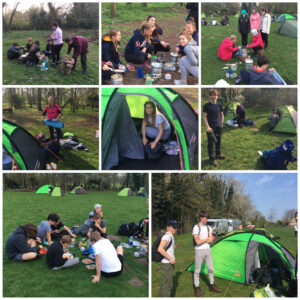 The award is made up if 3 independent sections: Volunteering, Skill and Physical. As participants take on each award the commitment required increases from 3-6 months at Bronze level, 6-12 months at Silver and 12 months at Gold Level. 
The final and often most visible section is the expedition which we offer expeditions in association with a third-party provider to ensure students are skilled and confident in their mapping and camp craft. We stay locally for the Bronze expedition and often use areas around Bury St. Edmunds, Woburn and Chelmsford.
For silver we travel to The Forest of Dean and The New Forest and then for Gold award we look to Northumberland and the Scottish borders to give a truly independent expedition experience.
At Bronze level, the expedition is over 2 days and 1 night, increasing to 3 days/2 nights for Silver and 4 days and 3 nights at Gold. We try to make DofE as affordable as possible and loan tents, rucksacks and Trangias to participants. 
Once students have enrolled at Bronze, we run weekly training sessions on Monday lunch times in preparation for the training weekend at the start of the season. These sessions cover Basic First Aid, map reading skills, campcraft, ideas for meals, countryside code and the 20 conditions. Participants then camp for their Practice and Assessed expedition. Once students are familiar with how the award runs, they are able to complete higher awards more independently. 
Here at Joyce Frankland Academy, Newport we have a dedicated team of volunteers running the Award with nearly 200 pupils taking part in the Award. At these meetings skills such as first aid, camp craft, cooking and navigation are taught which prepare the participants for their expeditions.
Volunteering
This is to encourage service to others. The following are examples of services carried out at Newport at all levels are as follows:-
Fire, Police, First Aid, Helping Slow Readers, Riding/Swimming for the disabled. Helping to lead Brownies, Beavers, Cubs and Sunday School. Helping old people, in Hospitals, clearing footpaths, churchyards and ponds. Maintaining DofE equipment and recycling programme.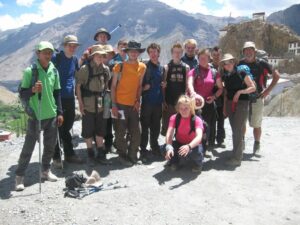 Skill
This to encourage the discovery of personal interests, social and practical skills.
There are over 200 skills to choose from however staff at Newport can assist and assess the following:-
Cooking, Mechanics, Woodwork, Metalwork, Electronics, Computer Programming, Photography, Art, Music, Drama and Environmental.
Physical
This is to encourage participation in Physical recreation and improvement of performance.
Many activities are carried out at Newport some examples are as follows:-
Aerobics, Athletics, Hockey, Football, Rugby, Rounders, Swimming, Climbing, Caving, Cycling and many more!
Residential Gold
This is to broaden experience through involvement with others in a residential setting.
The Residential Gold only courses have been run at Newport at places such as:-
Acorn Camp ( National Trust), Cathedral Camps ( looking after fabric/stonemason and woodwork), Canal Camp, British Conservation Volunteers, Sail Training Association, Disabled Holidays and Connexion Camp in the Pyrenees.