Course Overview
To provide students with the basic skills to be able to become better actors and to help students access the drama skills needed to utilise the tools which will help them develop as better learners across the curriculum.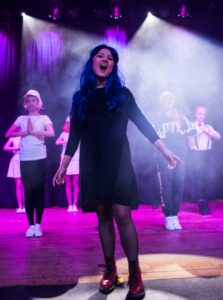 Topics explored at KS3:• Basic skills (Projection, characterisation, control, still image, soundscape, etc) 
• Fairy tales – developing scripts and stories • Pirates – soundscape, physical theatre, scriptwritng, character development • Important issues – race equality, gender equality, disability awareness, persecution, etc • Cowboys and Gangsters – script work • Pantomime – melodrama and musical theatre • Marc on the Streets –Homelessness • Guardians of the Universe – socio/political exploration • Adverts – Dragons Den/Film Making/Storyboard • Scriptwriting 
KS3 drama provides learners with the ability to enhance their learning in other curriculum areas through a series of skills and content pertaining to real life and the world around us. The skills we learn in Drama are skills for life.