Course Overview
To provide a transition from KS2 to KS3. Developing students as independent thinkers by providing a challenging curriculum supported by investigative work. Students explore related themes in depth, linked together into broad topics.
Topics: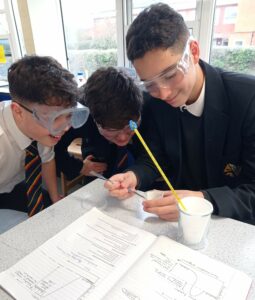 Broad topic headings are listed below;
these are taught through Year 7 and
Year 8
Introduction to science
Cells and organisms
The particle model
Forces
Plant and animal reproduction
The periodic table
Earth and space
Respiration
Chemical reactions
Waves
Ecosystems
Metals
Electricity
KS3 science provides learners with opportunities to explore new scientific discoveries and to start to evaluate their impact and importance to society and their associated ethical implications.